Bourbon and Blood Donations is a cause the entire team at Roller Die + Forming can get behind. With yesterday being both National Bourbon and National Blood Donor Day, Roller Die partnered with the Kentucky Blood Center to offer a raffle with three excellent top prizes. These included a bourbon basket for Roller Die employees and a RAV4 and five-day Jamaican vacation for all Kentucky residents who donated blood yesterday.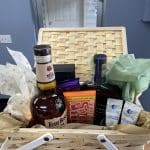 With excellent prizes and a great cause, lots of Roller Die employees turned out to give blood and refill the blood bank. Donating blood only takes  a few minutes, but can save lives. Every 2 seconds, someone in the US needs a blood transfusion and keeping the needed supply on hand in each state is important to ensure that those in need have the resources required.
The team at Roller Die has several charitable causes that we support regularly, but a blood drive is one where the whole team can participate, give, and make a very real impact each time it happens.
The team at Roller Die works hard each day to produce the high-quality parts used in solar racking, trucks and trailers, material handling, appliances, and many other industries. We even support healthcare making parts that go into carts, hospital beds, racks, and many other important pieces of equipment. And while that equipment is critical to the hospital being able to provide the care and treatment patients need, giving blood is another great way to make a very real and positive difference.